Event date
Start time
6:30 (pm)
Event description
Une invitation gratuite à demander en commentaire pour LA 1ère personne (sans carton et non accro aux seules gratuités) inscrite après moi2 pour assister à ce spectacle
OEDIPE IS YOUR LOVE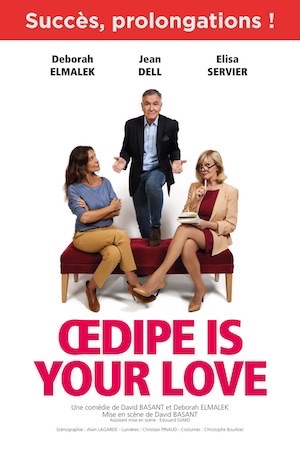 COMÉDIE ROMANTIQUE de pièce de Déborah Elmalek et David Basant, mise en scène de David Basant, avec Déborah Elmalek, Elisa Servier et Jean Dell.
Avocat charismatique et reconnu, Paul, s'il est fou de sa fille, veille à la garder sous sa coupe dans le travail comme dans la vie. C'est aidée de Nathalie, sa nouvelle psychothérapeute, qu'Eva, 37 ans, va tenter de se libérer de cet amour envahissant. Mais Paul n'est pas décidé à changer ou si peu. Et Nathalie est loin de se douter du rôle qu'elle va jouer au sein de ce duo Œdipien que rien ne semble pouvoir séparer. Paul réussira-t-il à laisser enfin exister Eva par elle-même ? Eva pourra-t-elle enfin s'affirmer face à lui ? Nathalie parviendra-t-elle à les aider au-delà de ce qu'elle pense... ? De rebondissements en aveux inattendus, Œdipe is your love nous met, avec humour et émotion, face à cette question : Et si aimer c'était aussi pouvoir quitter ?
Multiple registration possible?
Maximum slots available
No
Tell your friends to create an account!
10
Exact address
meeting location
To know the exact rendez-vous point, log in!
To know the exact rendez-vous point, log in!

List of registered members
(3/10 , available: 7)