Le jeune karl marx @orsay
Event date
Start time
7:45 (pm)
Event description
LE JEUNE KARL MARX

à Orsay

CINÉ-DÉBAT ALCA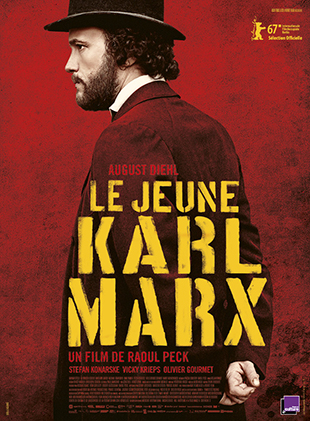 Synopsis :
1844. De toute part, dans une Europe en ébullition, les ouvriers, premières victimes de la "Révolution industrielle", cherchent à s'organiser devant un "capital" effréné qui dévore tout sur son passage. Karl Marx, journaliste et jeune philosophe de 26 ans, victime de la censure d'une Allemagne répressive, s'exile à Paris avec sa femme Jenny où ils vont faire une rencontre décisive : Friedrich Engels, fils révolté d'un riche industriel. Intelligents, audacieux et téméraires, ils rédigent fiévreusement ce qui deviendra la "bible" des révoltes ouvrières en Europe : "Le manifeste du Parti Communiste", publié en 1848, une œuvre révolutionnaire sans précédent...
Plus d'informations : ICI
Au plaisir de voir ce film avec vous !



Multiple registration possible?
Maximum slots available
No
Tell your friends to create an account!
4
Exact address
meeting location
To know the exact rendez-vous point, log in!
To know the exact rendez-vous point, log in!

List of registered members
(4/4 , available: 0)