Event date
Start time
7:00 (pm)
Event description
Free event

Chez moi à Colombes, proche de l'Hôpital Louis Mourrier.
JEU à l'honneur : HIDDEN GAMES / L'affaire Bourg-le-petit
1-6 joueurs de 14 ans et +
Faites des puzzles en équipe, devenez de véritables enquêteurs et lancez-vous dans une chasse multidimensionnelle des coupables !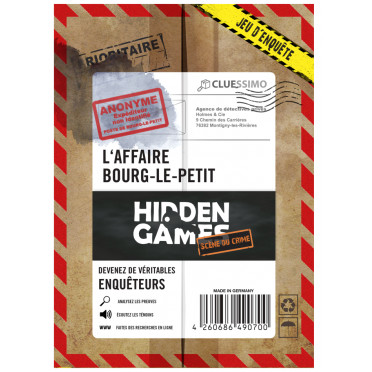 Le but du jeu est de résoudre l'enquête en équipe avec succès. Vous devez étudier le dossier, trouver des preuves, vérifier les alibis et parfois changer de perspective.
Les missions suivantes vous attendent:
Résolvez l'affaire autour de la fête de la chasse de Bourg-le-Petit.
Comment est mort Maxime Mercier?
Qui vous a envoyé cette enveloppe?
Qui a envoyé la lettre déchirée à qui?
Qui est le/la coupable?
Quelques remarques avant de commencer:
Lisez attentivement tous les documents
Accrochez l'affiche au mur
Prenez des notes
Chaque joueur doit lire tous les documents
À la fin, saisissez la solution sur cette même page et écoutez le dénouement.
Multiple registration possible?
Maximum slots available
YesEx: John (+2)
4
Exact address
meeting location
To know the exact rendez-vous point, log in!
To know the exact rendez-vous point, log in!

List of registered members
(3/4 , available: 1)