c.garnier j'aurai voulu être astro
Event date
Start time
7:00 (pm)
Event description
1 place à 8€ pour un profil sans carton qui en fera la demande en commentaire.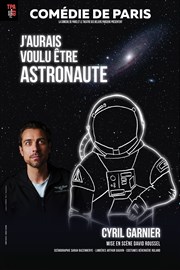 J'aurais voulu être astronaute
Mis en scène par David Roussel
En 2013, au Kennedy Space Center, Cyril remporte le premier billet pour un vol spatial touristique... Il est français, acteur et humoriste.
Aller dans l'espace, il en rêvait depuis l'âge de 5 ans, quand il espérait y croiser son père monté au ciel. À 33 ans, sauf catastrophe, ce rêve va se réaliser... Sauf catastrophe.
Dans un spectacle drôle, intelligent et émouvant, Cyril Garnier croise l'histoire mouvementée d'un acteur passionné et l'incroyable aventure des héros de la conquête spatiale.
Sa sortie dans l'espace vous apprend à surmonter les ascensions fulgurantes, les violentes turbulences et les baisses d'altitude soudaines que la vie vous réserve, pour qu'à la fin vous aussi vous entendiez... "j'aurai voulu être astronaute."


Auteur : Cyril Garnier
Artiste : Cyril Garnier
Metteur en scène : David Roussel
Multiple registration possible?
Maximum slots available
No
Tell your friends to create an account!
4
Exact address
meeting location
To know the exact rendez-vous point, log in!
To know the exact rendez-vous point, log in!

List of registered members
(3/4 , available: 1)