Conséquences @cinéastes18e canicule
Event date
Start time
9:30 (pm)
Event description
eniAu cinema des cineastes
Cartes CIP,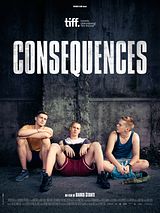 Séance de 21h30
Consequences
26 juin 2019 / 1h 33min / Drame / Slovène, Autrichien
De Darko Štante
Avec Matej Zemljic, Timon Sturbej, Gasper Markun
Avertissement : des scènes, des propos ou des images peuvent heurter la sensibilité des spectateurs
À 17 ans, Andrej est placé dans un centre de détention pour jeunes. Il y intègre un groupe de garçons délinquants avec lesquels il se perd dans la drogue et la violence. Mais bientôt les désirs d'Andrej le rattrapent… Démasqué, il va devoir faire un choix pour rester fidèle à lui-même
PRESSE
3,3
Multiple registration possible?
Maximum slots available
YesEx: John (+2)
6
Exact address
meeting location
To know the exact rendez-vous point, log in!

List of registered members
(1/6 , available: 5)