Event date
Start time
6:15 (pm)
Event description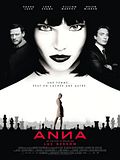 Anna
nouveauté
Action (1h59min)
Avertissement : des scènes, des propos ou des images peuvent heurter la sensibilité des spectateurs
De Luc Besson
Avec Sasha Luss, Helen Mirren, Luke Evans, Cillian Murphy, Adrian Can

Les Matriochka sont des poupées russes qui s'emboîtent les unes dans les autres. Chaque poupée en cache une autre. Anna est une jolie femme de 24 ans, mais qui est-elle vraiment et combien de femmes se cachent en elle ? Est-ce une simple vendeuse de poupées sur le marché de Moscou ? Un top model qui défile à Paris ? Une tueuse qui ensanglante Milan ? Un flic corrompu ? Un agent double ? Ou tout simplement une redoutable joueuse d'échecs ? Il faudra attendre la fin de la partie pour savoir qui est vraiment ANNA et qui est "échec et mat".
Multiple registration possible?
Maximum slots available
YesEx: John (+2)
6
Exact address
meeting location
To know the exact rendez-vous point, log in!
To know the exact rendez-vous point, log in!

List of registered members
(1/6 , available: 5)