Event date
Start time
9:00 (pm)
Event description
tu n'as aucun carton et non accro aux seules gratuités alors bienvenue à toi qui t'inscris après moi +2 ....
j'ai UNE entrée gratuite pour toi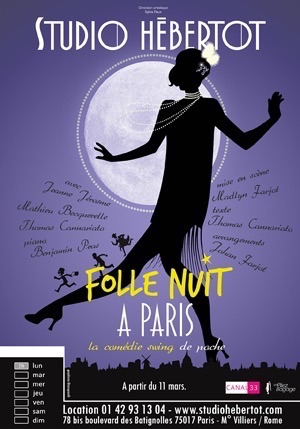 FOLLE NUIT À PARIS





(moyenne sur 4 notes)
SPECTACLES MUSICAUX de Thomas Cannariato, mise en scène de Madlyn Farjot, avec Jeanne Jérosme ou Emilie Weber, Mathieu Becquerelle ou Zacharie Saal, Thomas Cannariato et Benjamin Pras ou Mathieu Meyer (piano).
Voici la rencontre imaginaire entre Elsa et Louis juste avant qu'ils ne deviennent Elsa Triolet et Louis Aragon, deux immenses artistes qui vécurent une des plus célèbres histoires d'amour. Cette histoire a lieu pendant les années folles. Elle se déroule en une seule nuit, une nuit surréaliste qu'ils vivront à cent à l'heure. Poursuivis par la police et par la pègre, ils croiseront en route les artistes qui ont donné à Paris sa renommée mondiale : Dalí, Hemingway, Cocteau et tant d'autres.
Multiple registration possible?
Maximum slots available
YesEx: John (+2)
3
Exact address
meeting location
To know the exact rendez-vous point, log in!
To know the exact rendez-vous point, log in!

List of registered members
(3/3 , available: 0)